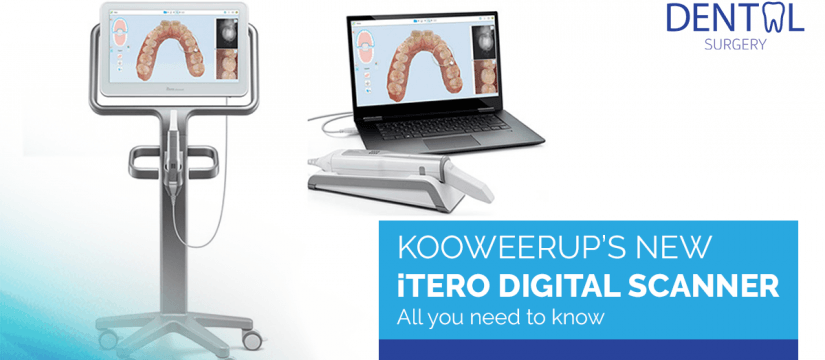 We've got some exciting news at Kooweerup Dental. It may not be as exciting news for you, but we're chuffed!
We've just included a brand new iTero Intraoral Digital Scanner to our clinic!
This revolutionary machine is changing the way that we perform dentistry – and whilst the news may not be getting you that excited, it will however provide you with a dental experience like no other, and you're about to find out why in this blog.

What is the iTero Intraoral Digital Scanner?
The iTero Intraoral Digital Scanner, as its name suggests, is a digital scanner that takes digital impressions of your teeth. It works by scanning the mouth, and creating three-dimensional dental images in minutes; replacing the standard two-dimensional images of many current digital scanners.

How are they useful?
The iTero Intraoral Digital Scanner is extremely useful and beneficial when it comes to modern-day dentistry. Here are just some of the benefits that you'll experience as a patient:
#1 – No mess, and no fuss
One of the most obvious advantages to the iTero Intraoral Digital Scanner, is that everything is completely digitalised.
If you've been seeing a dentist for quite some time now, at some point in your treatment, you may have had moulds made of your teeth so that the same sort of visual representation can be made of your treatment.
Imagine this: No impressions of your teeth made, no gagging or dribble, and no waiting for impression material or PVS to dry.
Using the machine is simple: Simply scan, and the hard work is done. If you've had two-dimensional images taken of your teeth prior to some form of treatment, the iTero Intraoral Digital Scanner displays your teeth digitally as it appears in your mouth in 3D form.

#2 – Save you time as your dentist will be able to discuss your treatment more effectively and efficiently 
An extension to the above point, is that your dentist will be able to substantially increase their workflow by not having to take the time to create moulds and wait for them to dry, just to be able to demonstrate your treatment when it comes to your teeth.
This also benefits you, as it means that you don't have to spend as much time sitting around. Infact, the use of a digital scanner can cut your appointment time as much as half, so that you can get on with your day.

#3 – Exciting news if you're an Invisalign patient
We've saved the best news till last.
The great news, is that the iTero Intraoral Digital Scanner is about to make your treatment far more seamless and faster than ever before.
One of the biggest advantages to our new digital scanner, is the open architecture feature, making them compatible with the Invisalign system, including the Invisalign Outcome Simulator. This means that we can now scan your teeth, and show you how your Invisalign treatment will look, so that you know more of what to expect and feel more confident in your diagnosis.
Using the iTero Digital Scanner for Invisalign treatment consultations also means that your new Invisalign aligners are posted back to your Dentist up to three times faster, so that you can start your treatment sooner.
There are many reasons to be happy about our new iTero Digital Scanner. Schedule a check up at Kooweerup Dental today to ensure that your dental health is on track for life.