We provide teeth whitening from our Koo Wee Rup Dental Clinic. This includes in chair tooth whitening procedures and take home kits. Contact us for more information after reading the below.
Latest / Safest Teeth Whitening Methods Available
Make the positive first impression you always wanted too.
A great smile is a sure-fire way to boost confidence. The appearance of your teeth is one of the keys to that smile. Unfortunately, many lifestyle factors can dull or discolor teeth. This includes drinking coffee, tea and red wine, just to name a few. Teeth can appear yellow, due to genetics or external factors such as smoking.
Fortunately, there are a few solutions we can provide to help your teeth become visibly whiter by many shades. If you feel self-conscious about your smile, we can help, our proven teeth whitening Koo Wee Rup Dental patients have had success with before.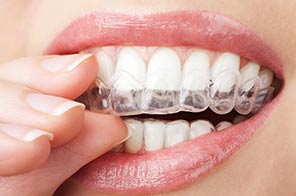 Call Us at +61 (03) 5997 128 for more details.
There are two options we can provide for you to whiten your smile. You can either use a take-home kit or opt for our in-chair teeth whitening system.
The long-term dental health of our patients is what is really important to us. It is strongly recommended that you have a check-up before commencing any tooth whitening procedure. Better results are usually achieved after a clean by a dental hygienist.
Book A Tooth Whitening Appointment
To talk to an experienced tooth whitening dentist in Koo Wee Rup, Book an Appointment today, or call our Dental Clinic for details.