Most people don't think about dentistry very much at all, much less when considering a potential career.
According to the most recent figures from the Australian Dental Industry Association, there were 16,781 dentists in Australia at the start of 2017. Compare that to 350,000-plus registered nurses, approximately 300,000 teachers, and more than 250,000 engineers, and you can see that dentistry is something of a 'niche' field.
The thing is that most people who choose to become dental practitioners have a real passion for the job. In fact, it's often more of a calling than a career choice.
That's certainly the case with our own Dr William Chai at KWR Dental.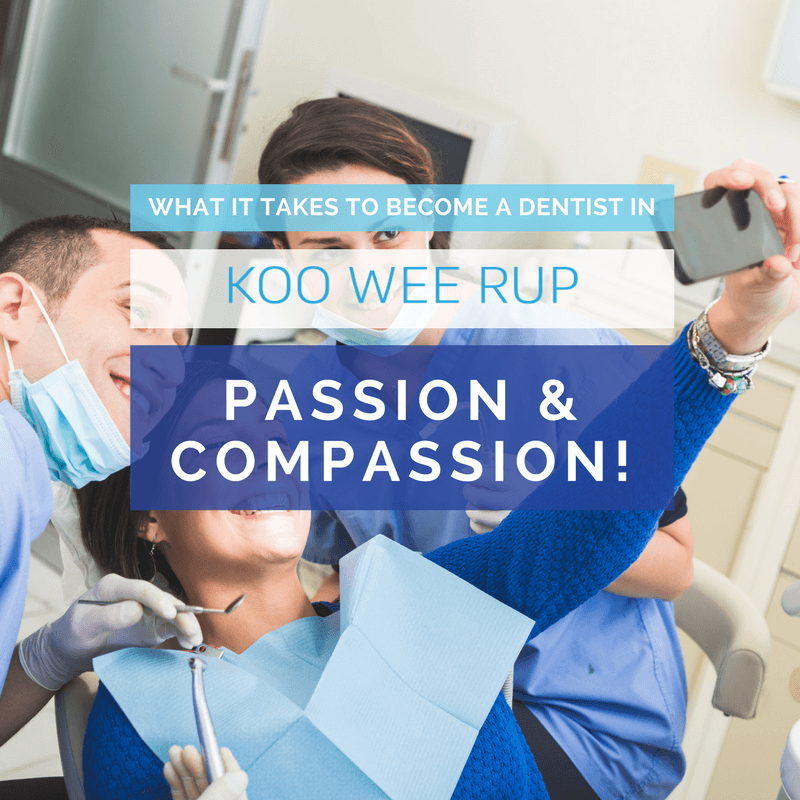 'I can't imagine not being a dentist'
"Patients sometimes make a comment along the lines of 'It must be hard to be a dentist' or 'I can't imagine being a dentist'," Dr Chai says.
"I understand why they think like that, but it's the opposite of the way I think.
"In fact, I've only ever thought of being a dentist and can't imagine not being one!"
Those of us who do think of dentistry as a tough job we couldn't possibly do ourselves are extremely thankful there are people like Dr Chai to help us when we have a dental issue.
So, we took the opportunity to find out just what it takes to be a long-standing, respected, trusted, and successful dentist in Australia.
Passion and compassion
"Even though being involved in dentistry has always been a part of my life and something I'm extremely comfortable with, I think it's really important that I understand my patients' fears and anxieties," he explains.
"Yes, I certainly have a passion for dentistry, but it has to go hand-in-hand with compassion.
"You have to love what you do while having empathy for people who are coming to you in a time of need, when they're experiencing some discomfort and associated stress and anxiety.
"I want to provide the remedy for their pain, and I want to give them the best level of care and treatment that I can, but I always keep in mind that I'm dealing with people who don't know what's wrong with their teeth, why they're suffering, or how difficult, painful, or time consuming it's going to be to 'fix' them."
An 'addiction' to helping people
"I still get a real buzz every time I know I've helped someone," Dr Chai enthuses.
"I feel lucky to be in a line of work which gives me regular 'hits' of that warm, fuzzy feeling.
"I admit it's almost like an addiction! It drives me to keep going, excited to help the next patient.
"Seeing them look so relieved when I've finished treating them and the issue has been resolved and their pain is gone is very, very satisfying.
"It's hard to explain – and probably sounds a bit strange to anyone who has never had that feeling – but I'm sure if you have something that makes you feel really good, you can imagine that being a regular part of your job every day."
'It's in my blood'
"Both my parents were doctors, so I grew up in an environment where helping people was second nature," Dr Chai explains.
"My wife is also a dentist and probably one of the reasons we clicked when we met was that her family background is also in the medical profession. Her grandfather and her uncles are all dentists.
"So, it's in my blood and I grew up never thinking of doing anything else."
Luckily for his many patients over his nearly 20-year-career, Dr Chai found that he loved dentistry, and still does.
"I had friends who went into dentistry and hated it, for various reasons. I guess not everyone is suited to this sort of work."
It's second nature … with some practice
"The desire to help people and the buzz I get from doing that is only part of it.
"I'm comfortable dealing with people. I understand them, I have empathy and compassion.
"Even though some of that is second nature, I have also learned a lot about how to put people at ease – maybe you could call it my 'chairside manner' – which I suppose you do get better at with experience and practice.
"At the same time, I'm motivated to keep studying, updating my skills as new technology, equipment, and techniques are introduced, and just becoming a better dentist.
"I believe most patients don't care how much I know until they know how much I care."
So patient empathy and continuing passion for learning new skills and technology are the ingredients of being a good and caring dentist.
And, of course, the buzz of seeing those relieved and satisfied patients is what's keeping us going at Kooweerup Dental.