You live in Pakenham and you are having dental issues that require emergency attention. Is it worth seeking appropriate and professional care from the surrounding areas or should you just seek a dentist locally? Well, this may require some thought.
One thing that you need to consider is the quality of dental treatment that you are looking for. For example, if you can only find the best dental care on the outskirts of Pakenham, then nothing should hold you back from travelling to that dentist for a premium service. After all, they say that prevention is better than care – and even if it involves an emergency, it's still better that you get the right quality of dentistry you need.
There is no reason for you to confine yourself to just one suburb when it comes to seeking appropriate and quality dentistry for your circumstances. Dentistry tends to be a matter of 'better now than later' – and it makes no sense for you to put off finding a good dentist before a tooth problem gets worse!
Even if it takes you a 20-minute drive out of Pakenham, wouldn't that be better than having to spend months caring for a worsening tooth situation? Surely it pays to be sure of the quality of dentistry you can get.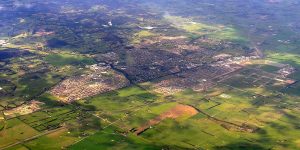 Aerial Picture by Graeme Bartlett
Reliable Dentistry On The Outskirts Of Pakenham
With Koo Wee Rup, you will be sure to find a reliable and professional dentistry service that is just outside of Pakenham. Our practice is located just 20 minutes' drive from Pakenham, and is where you'll find the top-notch dentistry services you are likely after.
Our commitment to our clients is known by plenty of residents living in and around the suburb of Pakenham. Our focus is in ensuring a high quality of service, and the wellbeing of our patients. If you are still on the fence about having to drive out of Pakenham to look for quality dentistry, consider these reasons:
We Have Professional Dentists
We keep a professional team of dentists and staff. Our practice ensures the necessary level of qualifications, and is certified by Australia's regulatory bodies. Apart from having the necessary qualifications, our dentists and staff bring a wealth of experience to the job. And we keep a diverse background of staff experience among our team to ensure that we are able to assist our patients with any specific dental procedure they may require.
State-Of-Art Equipment
We ensure the safety of our patients, and efficiency of our processes through state-of-the-art equipment. When we administer dental procedures, our patients need not worry about facing another dental appointment again. With our combination of advanced equipment and commitment to professionalism, we guarantee nothing short of a smooth visit to the dentist, every time.
We Accept Insurance Cards
We offer friendly payment options to our clients. Among these is the ability to pay for treatment using insurance cards. We accept the use of healthcare cards as a means of paying for your dental treatment. With this in mind, we provide a way to reduce any stress that may come when seeking out a professional dental service outside of Pakenham.
We Guarantee The Best Results
As a fully-serviced dental care centre, we guarantee results for our clients by ensuring a comprehensive understanding of their specific dental conditions. This allows us to provide a professional solution to address any problems they may be facing.
Consult with our team by calling our practice today, and make your appointment with a professional and high-quality dentistry service that is located just outside of Pakenham. We look forward to your visit!